Oriental Bank Employees pledges to contribute Rs 2,00,000/- to each martyred Soldier's Family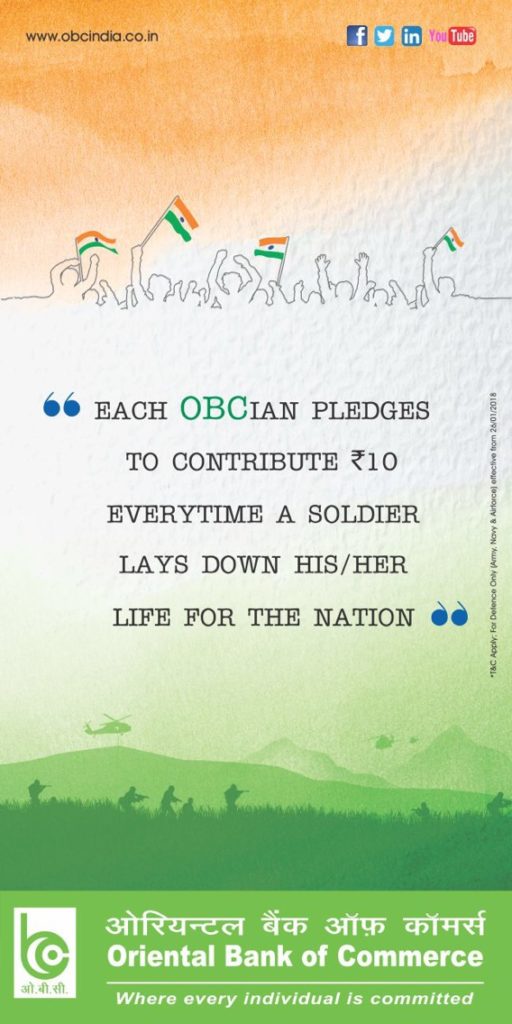 Oriental Bank of Commerce, a leading Public Sector Bank having its Corporate Office at Gurugram, Haryana & a pan India network of 2615 banking outlets and 2630 ATMs has launched a first of its kind initiative towards the soldiers of the nation on the eve of 69th Republic Day of the Nation.
In this initiative, every employee of the bank have come forward & pledged to contribute Rs. 10/-to the family of each valiant of the Indian Defence Forces (Army, Navy & Air Force) who lays down his life while protecting the nation.
Oriental Bank of Commerce is the first bank to take such a noble initiative for the society wherein the bereaved families of our brave soldiers will be assisted throughout the nation.
The initiative shall be valid from on 26.01.2018.
Future Plans: 
The Bank also plans to accept donations from its customers, citizens of India and organisations on a pan India basis towards this initiative so that a fund can be created which will benefit the families of Martyr's soldiers in future.