IS DEMONETIZATION A PANACEA TO THE ILLS OF THE ECONOMY ?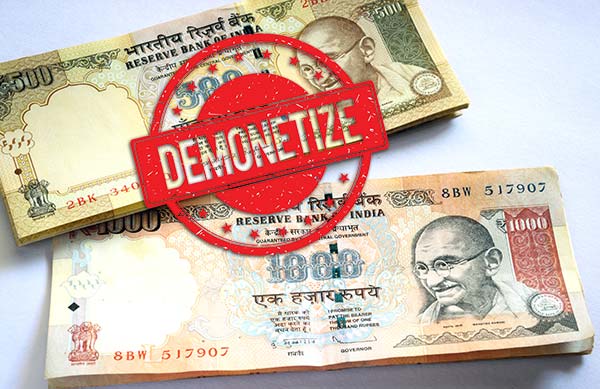 Dr.P.V.NARASAIAH
Professor, Dept. of Commerce
S.V.University, Tirupati-517502,A.P.             
INTRODUCTION
The Prime Minister of India on 8th November, 2016, announced the decision of the government to cancel the legal tender character of Rs.500 and Rs.1000 currency notes with effect from 9th November, 2016.  He also announced the issuance of new Rs.500 and Rs.2000 notes in exchange for the old bank notes.  People have been given time upto December 2016 to exchange the old notes held by them.  The reasons attributed for demonetization are two-fold – one, to control counterfeit notes that could be contributing to terrorism in other words a national security concern and second, to arrest  black money.
WHAT IS DEMONETIZATION ?
When a currency note of a particular demonetization ceases to be a legal tender, it is termed as demonetization.  But since our government is replacing the old Rs.500 notes with newer ones and doing away with Rs.1000 notes, it would be more appropriate to call the move as 'scrapping' or 'phasing out' of certain currency notes.  The term demonetization has become a household name since the government pulled the old Rs.500 and Rs.1000 notes out of circulation.  The dictionary meaning of demonetization is that "ending something that is no longer the legal tender of a country".  Demonetization is a dare step by the Government and rightly called as the 'surgical strike of the government on Black Money'.
DEMONETISATION – HISTORICAL BACKDROP
Historically, earlier Indian governments had demonetized bank notes.  In January, 1946, the bank notes of 1000 and 10000 rupees were withdrawn and new notes of 1000, 5000 and 10000 rupees were introduced in 1954.  From 1950 to 1973 India rupee was linked to British pound.  In 1966 and 1973 demonetization took place.  On 24th September, 1975, the connection between Indian rupee and pound was broken.  In 1975, the rupee tries to the pound sterling were disengaged.  India established a float exchange regime with the rupee's effective rate placed on a controlled, floating basis and linked to a 'basket of currencies" of India's major trading partners.  Further, the government had demonetized bank notes of 1000, 5000 and 10000 rupees on 16th January, 1978 as an important measure of curbing counterfeit money and black money.
In 2012, the Central Board of Direct Taxes had recommended against demonetization, saying in a report that "demonetization may not be a solution for tackling black money or economy, which is largely held in the form of benami properties, bullion and jewellary.  According to data from income tax probes, black money holders keep only 6 per cent or less of their ill-gotten wealth as cash, hence targetting this cash may not be a successful strategy.
RBI data shows that in 2015-16 almost 6.5 lakh crore counterfeit notes were detected in commercial banks of which almost 4 lakh crore were in the Rs.500 and Rs.1000 category.  It is in this context that the government wants to re-monetize the Rs.500 note while de-monetizing the Rs.1000 note.  But, the numbers of Rs.100 counterfeit currency were also close to 2 lakh crore this year.  86 per cent of currencies by value in India are of Rs.500 and Rs.1000 denominations.
DEMONETIZATION – IMPORTANT HAPPENINGS DURING THE MONTH NOVEMBER, 2016
The November month, 2016 in fact is regarded as remarkable in the Indian economic scenario. The decisions taken by the government exercised greater impact on the country's economy. The following table provides a glance at important happenings during the month of November 2016 in India.
Demonetization – Important happenings
| | |
| --- | --- |
| Date | Happening |
| 2016, Nov.8 | The government declared demonetization of Rs.500 and Rs.1000 notes.  Exchange of currency up to Rs.4000 allowed at banks and ATM withdrawal limited to Rs.2000. |
| Nov.9 | All the abolished denominations including Rs.1000 note, would return with better security features.  Hospitals, pharmacies, railway ticket counters, public business, co-operative milk booths, crematoriums, petrol pumps and airline ticketing counters at airports are allowed to accept notes. |
| Nov.10 | Banks reopened after a day.  Massive queues ensure as millions line up to deposit or exchange old currency.  The Rs.500 and Rs.1000 notes can be used to pay education fees, they can also be used to clear any charges, taxes and penalities due to government, municipalities and local bodies and for utilities such as water and electricity. It is observed that 47 municipal across India collected Rs.13192 crores  as against the demand of Rs.3607 crores. |
| Nov.12 | Deaths attributed to waiting in the queues begin to be reported.  The sensex registers a biggest single day fall in nine months. |
| Nov.13 | Exchange of currency limit raised to Rs.4500 and ATM withdrawal to Rs.2500. |
| Nov.15 | Banks asked to use indeliable ink marks on those exchanging money, the election commission raises concern. |
| Nov.17 | Further the currency exchange limit lowered to Rs.2000. |
| Nov.18 | The apex court pointed out that many are 'frantic' over demonetization. |
| Nov.22 | According to RBI, banks have received Rs.5.3 lakh core in deposits since announcement of demonetization. |
| Nov.24 | Old notes can now only be deposited at banks and not exchanged. |
| Nov.27 | RBI Governor justified the attempt of demonetization that the new notes are difficult to counterfeit. |
CRITICISM AGAINST DEMONETIZATION
            The demonetization  decision of the government has become subject to harsh criticism on
the following grounds:
Most of the black money would have already been converted into non-monetary assets (land, real estate, gold, foreign currency, foreign bank accounts etc.,)
The demonetization does not affect the black money in foreign accounts.
The demonetization does not affect the black money presently hold in stock markets and bank accounts.
The illicit wealth will only be destroyed, neither would it be retrieved or confiscated, nor their owners be punished.
The move may end up in increasing the proportion of non-monetary assets which can diversify the money laundering process via these assets which are more difficult to trace and detect.
Why replace 1000 and 2000 notes ?  It will be even easier to build fresh stocks of black money.
Curbing black money (cash) flowing in for terrorism, will be curbed for a short period of time, but it can not be altogether stopped. Not to forget, stock markets are genepool of crime.
Cold is over related in India, and Indians have an undescrible love for gold. To avoid the hassle of exchanging money again, they most probably give into desire of bringing gold.
The rush to exchange cash, the move received support from several bankers as well as from some international commentators.  But it was heavily criticized by members of the opposition parties, leading to debates in both houses of parliament and triggering organized protests against the government in several phases across India.
JUSTIFICATION BY THE GOVERNMENT
            The government claimed that the demonetization was a concerted effort to curb counterfeiting of the current bank notes allegedly used for funding terrorism, as well as a crack down on black money in the country.  The attempt was also strongly emphasized and described as an effort to reduce corruption, the use of drugs and smuggling and other antisocial activities in the country.
DEMONETIZATION – IMPACT ON THE ECONOMY
The demonetization undertaken by the government is a large shock to the economy.   It has brought a major change in the economic environment.  It is, therefore, inevitable to evaluate the short run and medium-term impacts of demonetization on the economy.
The demonetization by removing 86 per cent of the currency in circulation has resulted in a very severe contraction in money supply in the economy.  This effect would be more severe on individuals who earn incomes in cash and spend it in cash, since a number of sectors in the economy still work predominantly with cash.  In terms of the sectors in the economy, the sectors adversely affected are all those recall where demand is usually backed by cash, empirically those not within the organized retailing.  With cash transaction lowering in the short-run, until the new notes are spread widely into circulation, certain sections of the society could face short-term disruptions in facilitation of their transactions.  These sections are:
Agriculture and allied activities
Small traders
MSMEs
Service sector
Households
Political parties
Professionals like doctors, carpenters, utility service providers etc.,
Retail outlets
7.1. Effect on prices
Price level is expected to be lowered due to moderation from demand side. This demand
driven fall in prices would be understood as follows:
Consumer goods – prices are expected to fall only marginally due to modernalisation in demand as use of cards and cheques would compensate for some purchases.
Real estate and property – prices in this sector are largely expected to fall, especially for sales of properties where major price of the transaction is cash based, rather than based on banks transfer or cheque transactions. In the medium term, however the prices in this sector could regain some levels as developers release their prices (probably charging more on cheque payments).
7.2. Medium-term Effects  
The impact in the medium-term is a function of how much of the currency will be replaced at the end of the replacement process and extent to which currency in circulation is extinguished.
7.3. Reduction in GDP
Some rating agencies have estimated a decline of around 40 basis points in GDP growth for 2016-17 and a smaller magnitude in 2017-18.  These estimates are based on quicker liquidity injection and a sharp shift to cash less transactions.
The dent in GDP growth may be larger than anticipated and recovery to the normal growth trajectory may take 3-4 quarters.    It is in deed difficult to predict the likely growth trajectory post demonetization.  But, assuring that the formal sectors maintain the observed growth.
There is a positive effect on the economy that it would be benefited through higher government spending and greater financial inclusion.  Further, the movement of household saving from physical to financial will help boost growth as opined by Yes Bank in its report.  The near-term fall in growth on account of spending slowdown, could push inflation down.  Also, an increase in fiscal headroom will allow the government to maintain fiscal description, which in turn will support inflation target in the medium-term.
7.4. Impact on Automobile sales
Automobile demand was hit hard by the withdrawal of high-value currency, with total sales of cars, two wheelers and commercial vehicles shrinking 18.7 per cent in December, 2016.  The total two wheeler sales, which witnessed the steepest decline.  Almost half of two wheeler sales come from rural markets which have been hit hard by demonetization.  It is observed that demonetization had severe impact on rural areas and the north and east regions, where cash transactions are typically high.  Consequent upon demonetization, the two-wheeler sales recorded the steepest decline of 22 per cent.  Automobile sector, therefore a badly affected area due to demonetization.
OPINIONS ELICITED BY THE EXCUTIVES OF CORPORATE SECTOR ON DEMONETISATION
The opinions of some of the corporate executives on demonetization  collected from the Hindu daily (dated 12th November , 2016) are elucidated briefly:
The demonetization is a valiant move towards the greater good for the Indian economy.  Apart from curbing the flow of black money and bringing in transparency, it will create a conducive environment for businesses across industries and sectors.  That will see more inflow of capital into to the economy.
—Akshay Dewani, Director, Assetz Property Group
It's a welcome positive reform by the government in line with RERA and GST, and create positive sentiment among end-users and investors.  There might be a slight disruption till this process is streamlined, after which we expect it to be business as usual.  Especially in the context of Bengaluru's customer driven market with the majority from IT and corporate sectors paying taxes and financed through bank loans.
—- Bijay Agarwa, MD, Salarpuria Sattva Group
This is a progressive move and will be far more effective than RERA and other statutory impositions placed on the sector in weeding out corruption.  Layers upon layers of statute breed inefficiency and give way to corrupt practices.  This is the move we have been waiting for.  There will be a lot of short-term pain and confusion, but these policy directives will move India into a new era.
—-Neha Hiranandani, Director, House of Hiranandani
This move is a game changer for the nation.  It will fundamentally push for "Uniform pricing" in real estate, thereby boosting consumer confidence, transparency and trust in the sector.  We are happy to note that is in alignment with our organisation's core values of corporate governance and transparency.
— Ashish Puravankara, MD, Puravankara Projects
With progress of time, it will not be surprising to see prices go up as sellers come to terms with the fact that capital gains tax has to be paid on monies.  Sellers are likely to factor that liability into the sale price.  A closer look at the primary market would indicate that there are several components of informality within the production chain – such as purchase of land for onward development of a project.
Twenty-four hours earlier, a landowner could enter into an agreement with a developer where part of the consideration paid would be unaccounted.  Now, since the landowner can no longer do that – he would either sit out on the land, stalling the entire development project, or charge a higher premium to maintain the same cash margins after tax.  The same principle also works between developers, contractors and sub-contractors.  All of this included, the input costs of developers will go up, the only way then can respond will be by raising prices – which will affect a market already strained.
— Sachin Sandhir, Global MD – Emerging Business, RICS
This measure will give a boost to all formal channels of payments.  There may be transitory deflationary impact on the economy but for the long-term growth the present step is a boon.  Unorganised trade and services, less organized sectors with high cash economy will face the immediate impact.  In the long-term this revolutionary step will bring in several benefits with larger amount of money flowing into the mainstream economy.  In real estate, the less organized segment will only be affected.
—- Murali, MD, Shriram Properties
The professional, well organized companies in real estate will significantly benefit from this move and the scourge of black money will eventually vanish from the sector.  Over the next 12 months, lot of money will flow into financial instruments and hard assets like real estate, since people will be encouraged to disclose their earnings willingly.
— Abhiskek Lodha, MD, Lodha Group
CONCLUDING REMARKS
The demonetization announced by the government has a greater impact on the economy.  Demonetization of Rs.500 and Rs.1000 currency notes and introduction of new Rs.500 and Rs.2000 notes was intended to provide a total solution for the serious malaise of domestic black money.  Demonetization was brought into force by the government without advance notice for different obvious reasons.  Demonetization in fact is a surgical strike of the government on black money.  The intention of the government behind demonetization is to place the economy in right perspective. The government strongly aimed at eradicating terrist activities, corruption and other anti-social things in view of national security.  It is a well known fact that the phenomenon of black money essentially involves collusion of the functionaries of the State in the generation of unaccounted wealth through corruption and bribes.  Tax evasion and accumulation of black money will not hold good in the advancing economy like ours.  However, one must remember that black money in India is in the hands of a certain affluent sections belong to corporate as well as political sectors, but the circle of participants behind it included an important share of middle class, the bureaucracy and those who had bureaucracy and those who had an approach to politicians in power. Hence, it is a herculean task to determine the point of start of any noteworthy policy or strategy to tackle this hazard.
Global Rating Agency, Fitch pointed out the benefits arising out of demonetization are highly uncertain.  The agency further remarked that the demonetization of large denomination of bank notes has caused short-term disruption in India's economy and led us to downgrade our growth forecasts for 2017.  The move has certain potential benefits, but the positive effects are unlikely to be strong or last long enough to make a significant difference to government finances or medium-term growth prospects, added by Fitch.
It is the high time to decide whether demonetization will eliminate the black money in  future or not. An effective policy and strategy is required to check the generation of blade incomes at source.  It is known that lot of unaccounted  money may be generated in the purchase and sale of gold and properties.  The markets of gold and property are highly concentrated, with relatively few sellers having considerable control over supply.  This needs to be thoroughly investigated.  In the light of the preceding discussion, the justification / objectives behind  demonetization  hold  good.  But, it is the time to decide whether demonetization is a PANACEA to the ills of the economy or not.
REFERENCES
National Institute of Public Finance and Policy, New Delhi
(2016, Nov.9). Demonetization will benefit economy in long run: Jaitley. The Hindu Business Line. Retrieved from http://www.thehindubusinessline.com /economy/demonetisation-to-increase-eco-size-enhance-revenue-base-says-jaitley/ article9324312.ece.
http:://www.nipfp.org.in/publications/working-papers/1772
Economic consequences of demonetization of 500 and 1000 rupees notes, care Ratings (Professional Risk Opinion), Credit Analysis and Research Limited, Mumbai.
The Hindu,12th November 2016.
Business Standard, Thursday 29th December, 2016.
Deccan chronicle, Wednesday 11th January, 2017.
The Hindu, Wednesday 11th January, 2017.